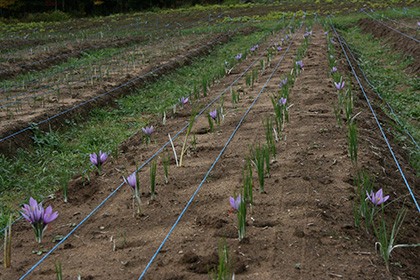 The Pure Saffron Academy
The first session of the first class of the Pure Saffron Academy was held in July 2014. Saffron farms have been set up in Mauricie and Lanaudière. The first trainees, Micheline and Pierre (St-Damien) as well as Sonia and Daniel (St-Louis-de-France) took part in the saffron summer activities to familiarize themselves with the cultivation of saffron before leaving to plant their bulbs for a first harvest. After of course taking care to prepare their soil for planting. They're really nice people. You can see them here in action, brimming with energy, passion and smiles. That's what it takes to make the best saffron. Pure Saffron wishes you the best of success in this wonderful project, which is very close to our hearts!
You can now make your reservation for the Pure Saffron Academy 2020, through our online boutique.
Click here to ask for more information about the Pure Saffron Academy.