Pur Safran is a project of the heart, encompassing our love of the precious spice.
We are the first commercial saffron farm in Quebec and Canada. Located now in the tourist region of Portneuf, precisely in Ste-Christine d'Auvergne, we operate a Saffron & Roses artisanal culture.
We produce a saffron of exceptional quality, pure and free of any contaminant.
We offer saffron in multiple sizes as well as a range of saffron products, condiments and others, cooked here, by hand.
Our premium products are marketed by Pur Safran and are available on Pur Safran's online boutique, at the farm (by reservation only), at some public farmers markets as well as at certain other points of sale; see the page Contact Us.
We want to share with you our love of saffron, to help you discover it as well as its many virtues, its culture, its uses, its sudden and magical flowering, its fragrance, its color and its unique flavour!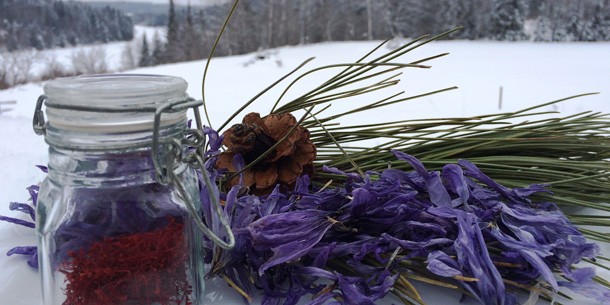 Lastest News from Pur Safran
The quality of our products is partly due to the exceptional quality

The first session of the first class of the Pure Saffron Academy

We have moved to the beautiful region of Portneuf in the summer

Now well established, saffron is very popular in Quebec. We produce a

Since 2021 our fields have been sheltered under greenhouses. The saffron is